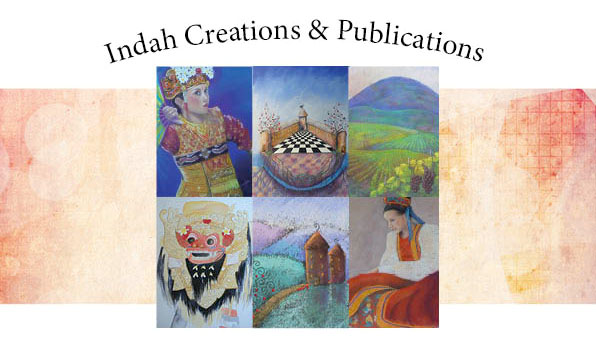 Indah Creations & Publications
A small publishing company also offering services in:
• Design      • Editing     • Proofreading
If you would like to enquire about publishing your book, please use the website contact.
Author & Artist
Linda is a writer, editor and artist who lives in Melbourne. Through a commission as author and illustrator, she created watercolour illustrations to accompany an Indonesian language and culture book, All About Indonesia – published  by Tuttle/Periplus 2014. Before this she was co-author for an Indonesian textbook series, used widely in Australian schools, entitled Kenalilah Indonesia (Macmillan Education Australia). Some of her designs and illustrations also appear throughout this series. Linda also taught Indonesian language in Australian secondary schools and universities for many years.
With a background and interest in music, Linda is currently working on a series of paintings of musicians and dancers. She works in watercolour and pastel as well as ink and black drawing micron pen. Linda is a member of the Pastel Society of Victoria (PSVA) and the Ringwood Art Society and designs and edits the magazine 'The Good Oil' for the Ringwood Art Society. She also designs and edits the magazine for CRISP Indigenous Plant Nursery in Ringwood.
Pastel
Pastels are pure colour. They are made by binding colour pigment with gum or glue. The resulting paste is shaped into round or square sticks and hardened. To create lighter colours, white chalk is added. Less binder creates a pastel that is soft and buttery while more binder creates a harder pastel. Pastels generally are referred to as 'soft pastels' to differentiate them from other harder forms such as Conté. Pastels are a wonderful medium to work with and can be applied with delicate translucent strokes or thick velvety strokes. Made famous by Degas 150 years ago in France, today pastel is enjoying a resurgence in world art. There are now several pastel societies across Australia (see links page). 
Did you know that 'indah' means 'beautiful' in Indonesian?